We've all got colds around here (Asa's first) and we're feeling the fall. Soup was definitely in order. Something hardy and filling, warm and comforting. Bored with chicken noodle, I came up with a vegetable filled split pea and ham.
2 table spoons olive oil
1 small onion, diced
2 garlic gloves, minced
2 carrots, chopped
2 small potatoes, cubed
2 celery stalks, chopped
1/2 bell pepper, diced
1 1-lb ham steak, cubed
7 cups stock
1 1-lb bag split peas, rinsed
2 bay leaves
2 teaspoons dried marjoram
2 teaspoons dried dill
salt and pepper to taste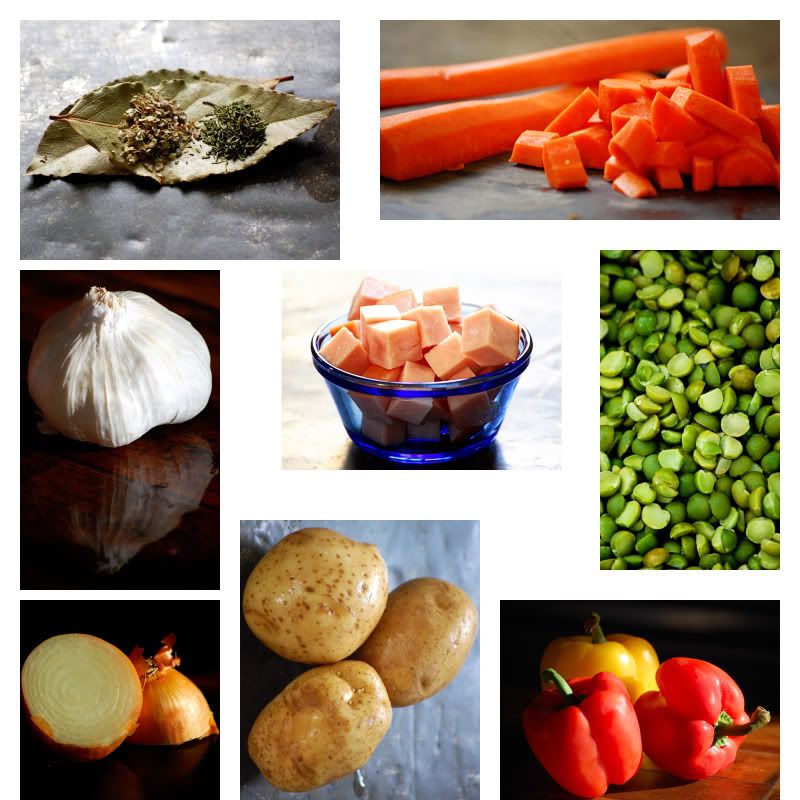 Heat the olive oil in a big soup pot. I use a 5 liter stock pot. Add the onions and cook at a med-low temp until soft.
Then add the garlic, ham and bell pepper. Stir everything together and cook a few minutes, until all the flavors start to get to know one another.
Add stock, peas, bay leaves, marjoram, dill, salt and pepper. I'm pretty generous with the pepper on this one, especially fresh cracked. Grind liberally. Turn heat to low or simmer, put the lid on and let cook 1 - 1 1/2 hours. You can leave it longer too, at least an hour though for the peas to soften and the smell to fill your kitchen. Make sure to stir it a few times too.
Then add carrots, potatoes and celery. Cook another 30 - 45 minutes or until the veggies are nice and tender. Again, you could leave it a bit longer too, just make sure to let it bubble long enough for the potatoes to soften. You can blend it up a bit when it's finished if you prefer, but I like to leave it chunky. Gives it a sort of vegetable stew vibe. Serve steaming with heavily buttered bread. Delicious. Oh! And for my vegetarian friends (Hi Bess!) just leave out the ham and use vegetable stock or water and viola, vegetarian, no - vegan! split pea.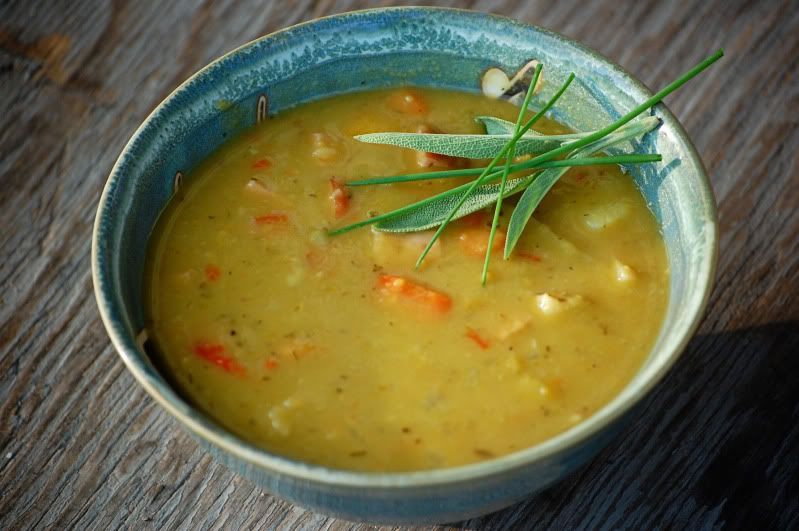 Enjoy.